Chews wisely: Which long-lasting treat suits my dog best?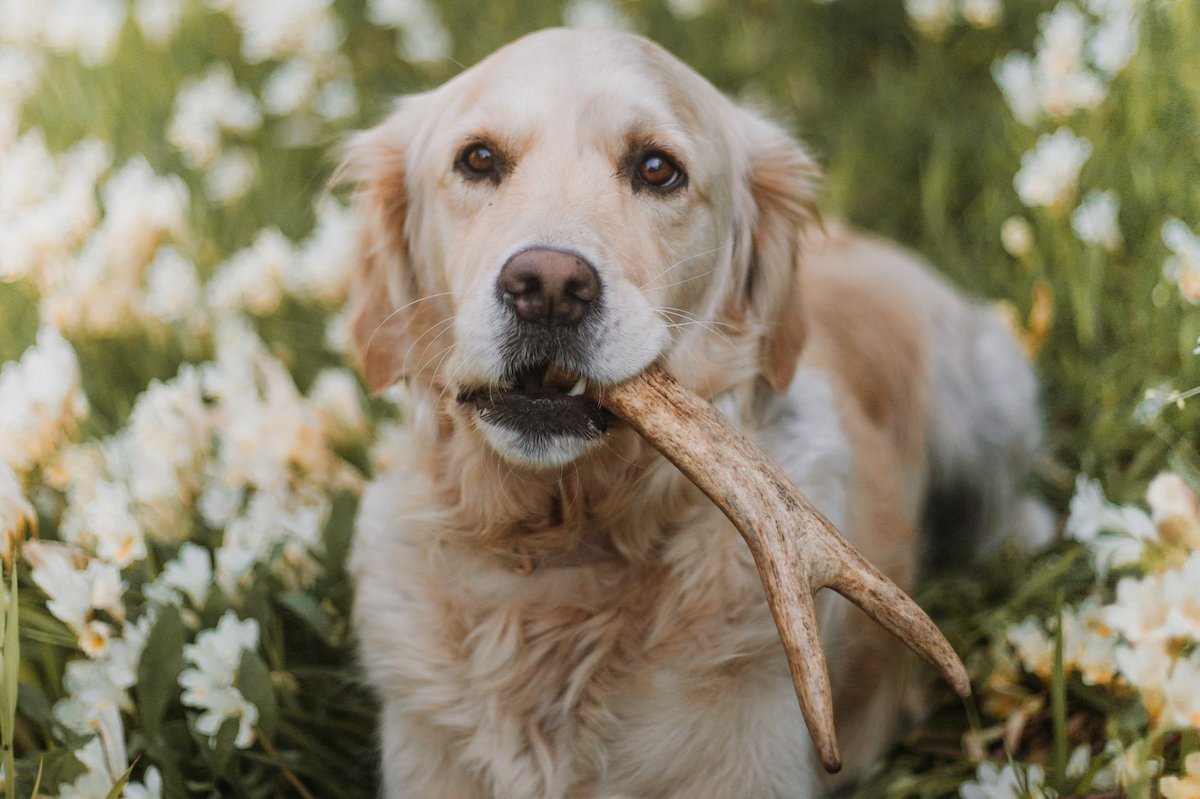 In case you hadn't noticed, there are tons of dog chews to choose from.
Blunt and pointy; bones or jerky; beef or poultry; the opportunities are endless. Just like us, doggos are individuals, with individual tastes and unique proclivities. Some like to take their time on a treat while others chow down. Some prefer a melt-in-your-mouth moment while others are only satisfied by an ultra-tough chew.
For every different need there's a different treat. But by far the most popular need? Chews that actually last.
Doggos are destructive creatures by nature, and left unoccupied you might find them chowing down on your couch cushions – or worse. Luckily, there's an antidote for this: long-lasting chews.
We've taken the reigning champion of tough treats – deer antlers, goat horns, bully sticks and collagen sticks – and gone into the nitty gritty of what makes each of them unique. For each treat, we've rated them out of three categories:
Less Is More, for dogs that chew as a hobby and not a career.
Captain Crunch, for canine's looking for a good time and a long time.
Super Chewer, for grizzly bears in a dog-shaped body.
Goat Horns
We could bleat about goat horns all day. So we will.
Goat horns are a staple in our treat box, and a go-to for keeping doggos content while we're otherwise occupied. Made of the keratin protein, they're a dense, durable chew that takes the average dog a week or more of dedicated chewing to break down.
Goat horns naturally soften under continuous exposure to saliva, and tend to break away into very small (and safe) 'chips'. They come whole or split, letting you personalise their toughness.
You can find goat horns with their marrow intact, but we prefer them hollow. Removing the softer insides means you can get creative with your horn, stuffing them with something delicious (like peanut butter or mince) and then freezing them for next-level durability.
Best Suited To: Super Chewer & Captain Crunch
Collagen Sticks
The fresh kid on the block, collagen sticks are quickly earning their reputation as a chew champion.
The most abundant protein in our bodies, collagen is responsible for maintaining healthy bones, tendons, muscles, teeth and skin. Collagen sticks are made from an ultra-digestible layer of skin, brimming with amino acids that your doggo's body uses to regenerate muscles and improve mobility.
Collagen sticks don't splinter or break into sharp pieces. They're (very slowly) softened by your dog's saliva, with most doggo's taking a minimum of 30 minutes to conquer.
Best Suited To: Less Is More
Deer Antlers
Antlers have quickly risen to stardom as a long-lasting, boredom-busting chew – and for good reason.
Deer antlers can be found in a wide variety of shapes, sizes, colour and texture. Depending on the age and breed of the deer they came from, they can come flat and relatively soft; forked and ultra-tough; and anywhere in-between.
This means you can scale up or down the treat difficulty while still reaping all the same benefits.
Like goat horns, antlers come in split or whole varieties, with the marrow exposed for an easier chew or unaltered for power chewers.
The best bit? Antlers tend to crumble away when chewed, rather than splintering or chipping off. Perfect for the doggo who's prone to gulping.
Best Suited To: Super Chewer
Bully Sticks
Bully sticks need little introduction as an unbeatable choice for long-lasting, high protein treats.
Made from 100% beef pizzle, bully sticks are junk food-free and come in a range of sizes, shapes and durabilities depending on the bull they came from. They're nothing but protein-rich meat, and unlike traditional treats like rawhide they're digested with ease.
Just like collagen sticks, bully sticks don't shatter or splinter. While still a challenging chew, your doggo's saliva will eventually re-hydrate the treat, breaking away into soft (and delicious) morsels.
While larger dogs may defeat this treat in one (substantial) chewing session, smaller and less toothsome doggos may find themselves returning to it for days to come.
Best Suited To: Less Is More
Coffee Wood Chews 


As tried and tested fan fave on the WAG roster, these long-lasting natural coffee wood chews are sure to be your dog's new favourite.
Now we know what you're thinking. Coffee for dogs?! Don't worry - these wood chews are caffeine free and are actually a by-product of harvesting coffee beans.
Although they could be considered as more of a chew toy, these durable chews are perfect for dogs that always come home munching on a new stick after every walk. The great thing about these coffee chews is that they break down in little digestible chunks, making it safe for dogs of all sizes! 
Best Suited To: Super Chewer
Chews your fighter
Picking the perfect long-lasting chew is the first step to an occupied, mentally stimulated and less destructive dog.
As with all treats, we recommend supervising your doggo to ensure they're chowing down appropriately. For dogs that gulp or have sensitive teeth, we suggest starting at the softer-end of the range and working your way up.
If you're still confused on what to choose, don't sweat it! Reach out to us with a description or your doggo and we'll give you our tried-and-true recommendations. 🤝
Happy chewing!