3 ways to reduce your carbon footprint when it comes to dog treats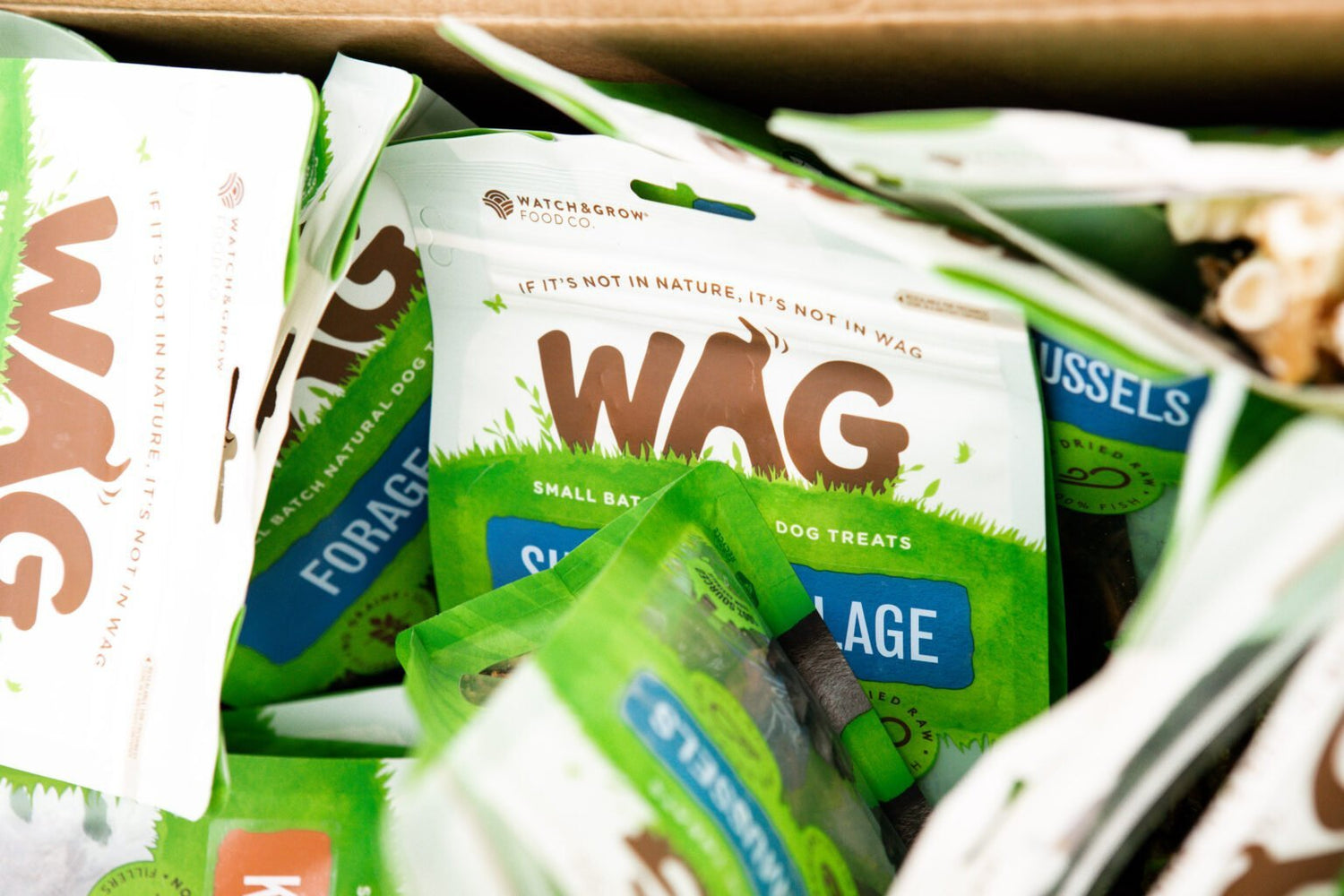 At WAG, we're committed to ethical and sustainable practices and bringing as many dog owners along our sustainability journey with us.
Mother Nature is our doggos' playground: we as dog owners understand how important the choices we make in our everyday are, and we as a company understand the obligation to take environmental responsibility seriously. Without committing to ethical and sustainable practices, there will be no wind down time with a Bully Stick or treat time with Yoghurt Drops.
Whilst we may think gas, electricity and water when it comes to reducing our carbon footprint, pet ownership is in fact a large culprit in the emission of greenhouse gases.
My pet has a carbon footprint?
Yes! According to research published in the New Scientist, the carbon footprint of a sports utility vehicle driven for 10,000 kilometres for a year is less than half of a medium-sized dog like a Labrador.
Despite the carbon pawprint that comes with dog ownership and our dogs' food, Australia in fact has one of the lowest carbon emissions profiles of any major meat-producing country. The commitment that Meat & Livestock Australia has to environmental sustainability is widely revered and is a great example for other countries, particularly with its ambitious goal of being carbon neutral by 2030.
With the manufacturers of our doggos' treats doing their part, what can we then do as dog owners (and dog treat givers!) for Mother Nature when it comes to chew time? We know that doing a whole re-vamp of your lifestyle all at once can be a bitter treat to swallow, so it's best to start small and simple!
1. Feed your dog less
Even though we love it when our doggos have got lovin' in their tummies, the truth is, 40% of dog owners are guilty when it comes to overfeeding.
With pet obesity at a staggering high, this means we gotta be mindful of our dog's weight by feeding them less or feeding them low-fat alternatives. And when we feed our dogs less, we in turn shrink our carbon footprint.
How? The meat industry is known for its high greenhouse gas emissions and even though Australia is known for its lower industry carbon emissions compared to other meat-producing countries, every little action makes a big difference!
2. Support businesses that support sustainability
Ensuring that your doggo's favourite food and treat company is dedicated to reducing waste, reducing their carbon footprint and reusing resources is a simple step in the right direction.
You want to make sure that the companies you choose to buy from support the same causes of sustainability that you do. You want to feel confident with sharing that company's mission to family, friends and your local Facebook doggo group. Companies should be able to communicate their mission in concise and precise ways that anyone can understand.
When it comes to reusing resources, all of our packaging, including our latest Coles and Woollies range, is recyclable through RedCycle.
Whilst these aren't the sole answers to decreasing greenhouse gases, they are small initiatives for your doggo to chew grain-free and guilt-free.
3. Do the Roo
When it comes to choosing a protein for your doggo, kangaroo is one of the most eco-friendly choices you can make.
Kangaroo meat uses a lower use of resources compared to beef and sheep from manufacturing to transportation. Roos also digest their food in a unique way – they ferment food in their tummies before passing it, which means they also produce less methane gas than other livestock.
Kangaroos are animals that can weather many different environments and thrive on what our outback has to offer, comparatively to their livestock counterparts. As a plus, their soft pads cause far less soil compaction and erosion to the earth compared to hard hooves.
Thinking twice before making any doggo decisions
Pet parents are making more conscious moves when it comes to pet health, and we can start to see the trend towards our planet's health too.
There's no better time than now to commit to a more sustainable lifestyle and it can begin in the smallest kind of ways. And know that we are here to take that journey with you in giving your pet the very best, pure and simple, and reducing our carbon footprint at the same time.