Jerky Just Got Healthier! Introducing Our New WAG Functional Jerky Range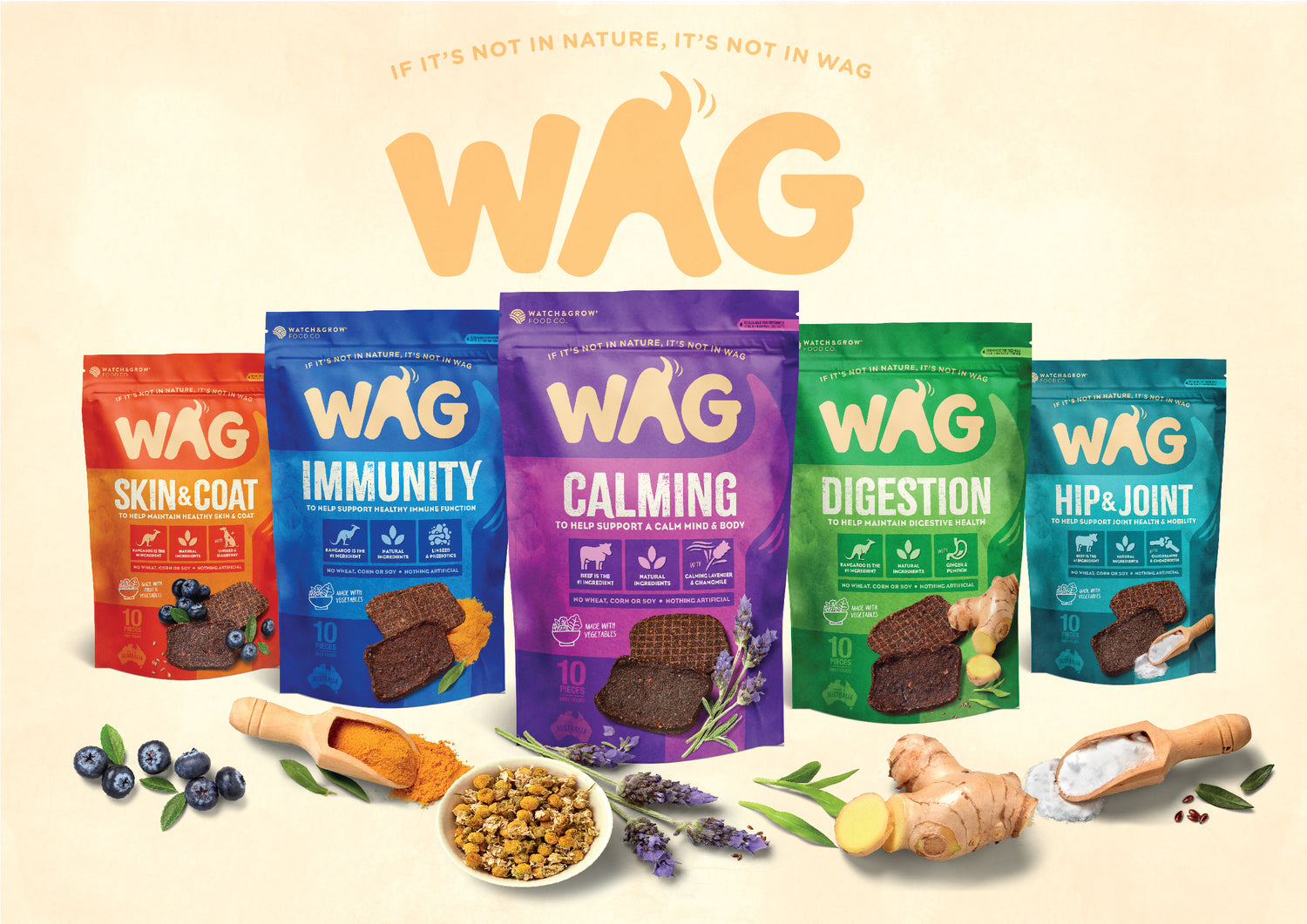 The WAG team has been working their tails off, and we are thrilled to announce our brand new Functional Jerky range! Think of it as classic jerky, but with a boost. This range features even more yummy flavours to try and offers extra health benefits for your furry friend.
Healthy Dog Treats With Added Benefits
Why did we decide to create this range, you ask? Well, as pet parents, we know that every dog is unique with their own personalities, likes, dislikes, and health requirements. Nowadays, we understand that keeping our furry companions healthy is a continuous journey. Therefore, we have launched our brand new Functional Jerky range, containing active ingredients and superfoods designed specifically to support our pups' health.
Our new Functional Jerky range is natural, with no wheat, soy or artificial additives. Each variety contains a unique blend of active ingredients to address specific canine health concerns, such as joint support, immune boosting, digestive health, anxiety relief, and skin and coat health. They are the pawfect choice for dog owners who want to give their pups a treat that not only tastes great but also promotes overall wellbeing.
Your furry friend can enjoy our wonderful Functional Jerky as a whole chew, or you can break it down into smaller pieces to use as training treats.
Still unsure which flavour to choose from? Don't worry, we've got you covered. Check out our descriptions below to learn more about each variety and their distinct blend of ingredients and health benefits.
Functional Jerky for Digestion
Happy tummy, happy dog! Our Digestion Jerky Treats are made with delicious hypoallergenic kangaroo, which is gentle on your pup's tummy. Packed with fibre and gut-loving ingredients, these jerky treats will satisfy even the pickiest of eaters and the most sensitive tummies.
Contains:
Kangaroo

- Lean protein, the #1 ingredient

Pumpkin

- Natural source of soluble fibre to help support digestion and intestinal health

Inulin

- A prebiotic, supports gut functionality, good digestion and promotes immunity

Ginger

- Encourages efficient digestion and settles the stomach
Functional Jerky for Hip & Joint
If yoga with your furry friend is your preferred way to start the day, these treats will help perfect their downward dog in no time! Our Hip & Joint Jerky is made from protein-rich beef with the addition of glucosamine and chondroitin to support healthy hip and joint function.
Contains:
Beef - The #1 ingredient
Glucosamine

- Key component of healthy joint cartilage

Turmeric

- Powerful anti-inflammatory to aid in reducing inflammation

Chondroitin

- Naturally found in cartilage, supports healthy joints
Functional Jerky for Immunity
While your pup is busy guarding the house from the postman, protect their immune system with our Immunity Jerky. Mouthwatering kangaroo meat is expertly blended with a combination of ingredients that help boost the immune system and promote overall health.
Contains:
Kangaroo

- A lean protein, the  #1 ingredient

Flaxseed

- Source of alpha-linolenic acid, to support immune health

Turmeric

- A natural antioxidant to support healthy immune function

Prebiotics

- Supports healthy digestion of nutrients, strengthening the gut and immune system
Functional Jerky for Skin & Coat
No bad hair days here! Our Skin & Coat Jerky is made with tasty chicken and loaded with nourishing whole foods that help support shiny, full-bodied coats and healthy skin. Packed with antioxidants, our Skin & Coat Jerky will have your furry friend looking and feeling great.
Contains:
Kangaroo

- A lean protein, the #1 ingredient

Turmeric

- An antioxidant with antibacterial properties, which boosts skin and coat health

Blueberries & Cranberries

- Powerful sources of natural antioxidants, rich in vitamins A, C and K to support skin and coat health

Flaxseed

- Naturally rich in Omega 3's to support skin elasticity and promote a shiny coat
Functional Jerky for Calming
Life can be ruff! From loud noises to separation anxiety, dogs can get stressed out from various triggers. But fear not! WAG has a tasty solution to help calm their nerves and keep them feeling paw-some with our WAG Calming Jerky. Packed with natural ingredients sourced straight from Mother Nature, our jerky helps promote relaxation and peace of mind for our four-legged companions.
Contains:
 Beef - The #1 ingredient
 Lavender - Known for its calming and aromatherapy properties (formulated to   be safely consumed by your dog)
 Ginger - Calms an uneasy stomach..
 Camomile - Known for its relaxation properties

Frequently Asked Questions
Hey there curious pup parents! We know you're dying to know more about our new WAG Functional Jerky range, so we've rounded up some answers to all your burning questions. Check 'em out below and get ready to treat your dog to some seriously delicious and healthy jerky!
How often can I feed my dog WAG Functional Jerky Treats?
The suggested amount of WAG Functional Treats to give your furry friend daily may differ based on their weight. To determine the maximum recommended serving per day, please check the feeding guide on the package.
Are WAG Functional Jerky Treats made in Australia?
They sure are! All of the flavours in the WAG Functional Jerky range are proudly made and manufactured in Australia.
What is the most effective way to use WAG Functional Treats for improving my dog's health?
The WAG Functional range is designed to serve as a supplement to your dog's regular diet and function as a treat, thereby offering extra health benefits.
Can WAG Functional Treats be broken into smaller pieces to be used for training?
Absolutely! You are able to break the jerky chew apart by hand in order to use it as training rewards. Just ensure to follow the feeding guide so you do not exceed the recommended daily amount for your dog.
When is the best time to give my dog WAG Functional Treats?
We recommend feeding your dog WAG Functional Treats during the day, between morning and evening meals.
Are WAG Functional Dog Treats natural?
Absolutely! WAG Functional Treats exclusively incorporate 100% natural ingredients, and they do not contain any synthetic additives, fillers, or harmful substances.
At what age can I feed my dog WAG Functional Treats?
WAG Functional Treats can be enjoyed by all doggos from 8 weeks of age.
Shop the new range now online!
So what are you waiting for? Treat your dog to good health, by shopping our full range of delicious Functional Jerky Treats online, or in-store at your local Pet Stock right now! If you are unsure which flavour in the collection will be best for your dog, feel free to contact our friendly team for more information.