The Benefits of Feeding Your Dog Treats Without Preservatives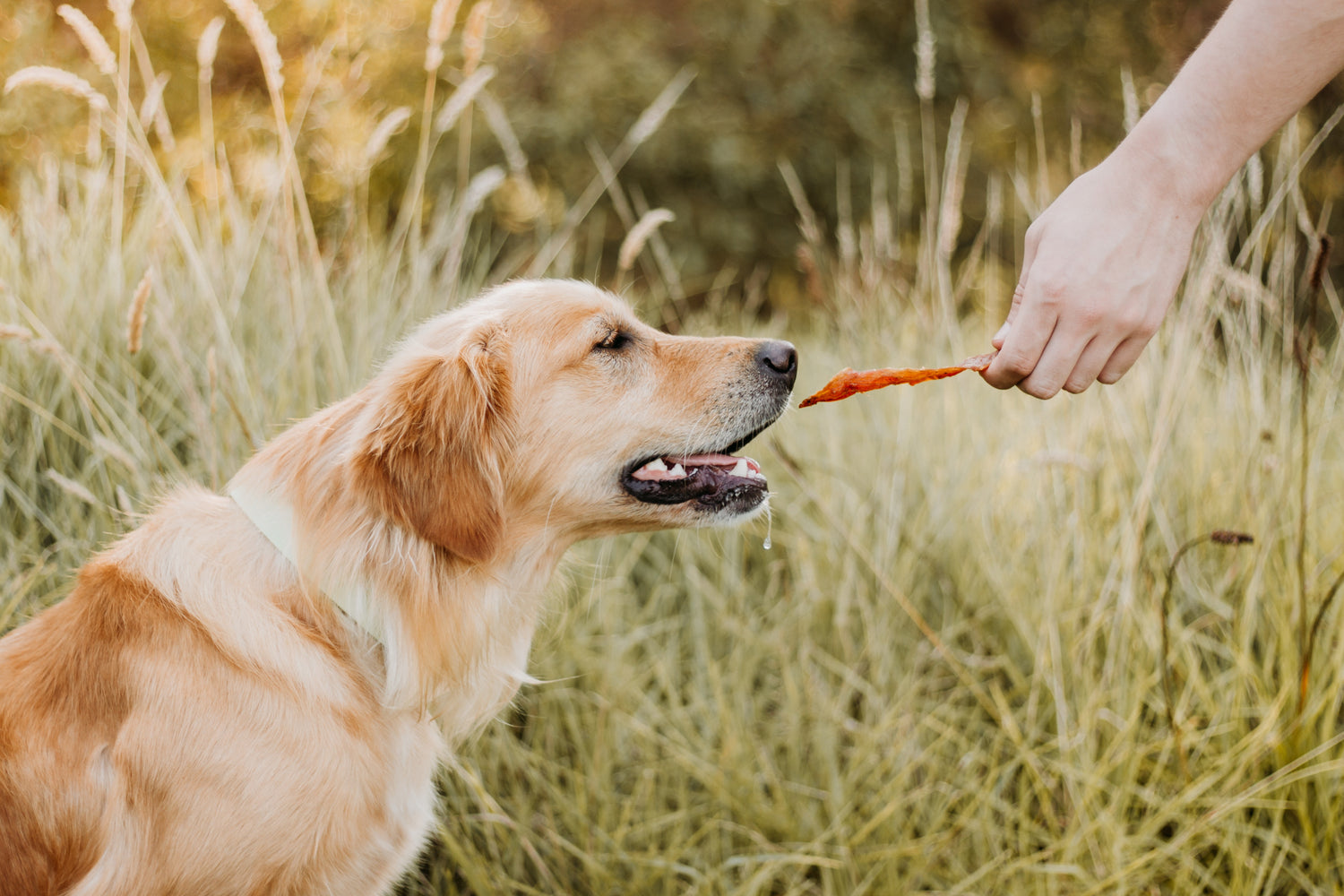 We all want the best for our four-legged companions, puppies and adult dogs alike. But sometimes it's hard to know which are the best treats to buy for your pooch.
What we eat directly affects our health - and the same goes for our doggos, too. It's important to buy dog treats without preservatives from a business that you can trust.
Let's have a look at why you should shop for preservative free dog treats, what to look for in treats for your pooch, and how to ensure you support sustainable products. 
Why should you buy dog treats without preservatives?
Many commercial dog treats are packed full of nasties. They're designed to reduce costs for the producer and extend the time the product can spend on the shelf. They may also have added sugar, flavour enhancers, or colouring to make them appear more attractive.
Low quality dog treats, such as those packed with fillers and artificial preservatives, can upset your dog's digestive system. This can negatively impact your dog's health, as poor digestion can lead to weight loss, bowel troubles and issues with your dog's skin and coat.
Additionally, preservatives can alter the taste and nutritional value of the treats, which can make them less appealing and less beneficial for your dog. By choosing preservative-free dog treats, you can provide your furry friend with a healthier and more natural snack option that is both safe and enjoyable.
The benefits of natural dog treats
Good quality natural dog treats are high in nutrients. This means that your furry friend is getting all the good stuff without unnecessary fillers.
Single ingredient treats can aid with digestion and weight management. Natural treats such as bully bites provide the right nutrition to support your dog's energy and activity levels, which in turn supports a healthy, happy lifestyle.
Treats derived from all-natural ingredients are great for your dog's teeth. Natural dog chews such as kangaroo bones support gum cleaning for your pooch. A dog's diet full of natural treats and good quality food will also help support their immune system and help lower their chance of disease.
Preservative-free goat horns and collagen sticks for dogs support healthy skin and a healthy coat, both of which are signs of a pup in good shape. If your dog is struggling with health issues, take a look at the ingredients in their treats and food.
What to look for
Choosing natural dog treats may feel overwhelming at first, as some dog treats may appear to be 'natural' but have hidden nasties in the ingredients.
Before buying any treats for your furry friend, check the ingredients list. It should be relatively short - if there's a huge long list of different ingredients, some of which you don't even recognise, this is a red flag. You should be able to identify (and pronounce!) all the ingredients used. High quality ingredients will speak for themselves.
Dog treats shouldn't contain any preservatives or additives such as sweeteners. They also shouldn't contain any colouring or flavour enhancers.
Small batch
In terms of dog food and treats, look for products that are made in small batches. Manufacturers that create small batches of dog food produce a higher quality, fresher product than companies that mass produce their pet food and treats.
Check out the main ingredient
The main ingredient in your pet's treats should be protein, such as real meat.
Single ingredient dog treats are ideal, because you know exactly what's in it - not artificial preservatives or fillers.
How the treats were made
Freeze-dried treats or treats that are dehydrated are fantastic options because they don't lose their nutrients during production.
Homemade dog treats
Some pet parents, overwhelmed by the nasty ingredient lists of many commercial pet treats, opt to make their own homemade treats. This is a good option if you want to know exactly what's going into the training treats you feed your dog, or if you need to opt for some low-calorie treats for a dog watching their waistline.
If you want to try your hand at making your own healthy dog treats, try using ingredients such as:
Peanut butter (just make sure it doesn't contain xylitol)

Sweet potato

Real meat such as beef or chicken breast
Read more: Can Dogs Eat Peanut Butter?
Making homemade treats isn't for everyone - and that's okay! You don't need to make your own to ensure that your furry friend is getting the very best.
Buy from a brand you trust
Dog owners need to be able to trust that the treats they feed their pup aren't going to do any harm to their dog's health. Buying healthy dog treats from a trusted brand will ensure your furry best friend is enjoying a delicious treat without any nasties. This is our mission at Get WAG. Creating high quality, healthy, small batch dog treats that are not only good for your furry friend, but for the planet too. 
A note on sustainability
We should all be mindful of what we consume, and what products we choose to support. Before supporting any business, you should look into their ethics and supply chain. The good guys will be the ones that are upfront about where they source their ingredients.
Here at WAG, we pride ourselves on having the best dog treats that don't cost the earth. Sustainability is important to us, so we work closely with local trusted farmers to ensure we use ethically and responsibly sourced ingredients. More than 80 of our products are sourced right here in Australia. A small range of our products are sourced from around the globe to ensure tip-top quality (such as our sheep ears and venison from our neighbours over in New Zealand).
Best natural treats for your furry friend
When you shop with WAG you know you're getting high quality healthy dog treats without preservatives. Not only will your doggo thank you, but you'll also be supporting an ethical and sustainable Australian business. How's that for satisfaction! Browse our range of WAG all-natural dog treats online today, or check out a select range in store at Coles, Woolies, and all major pet retailers now.