Spotlight on our local farmers and butchers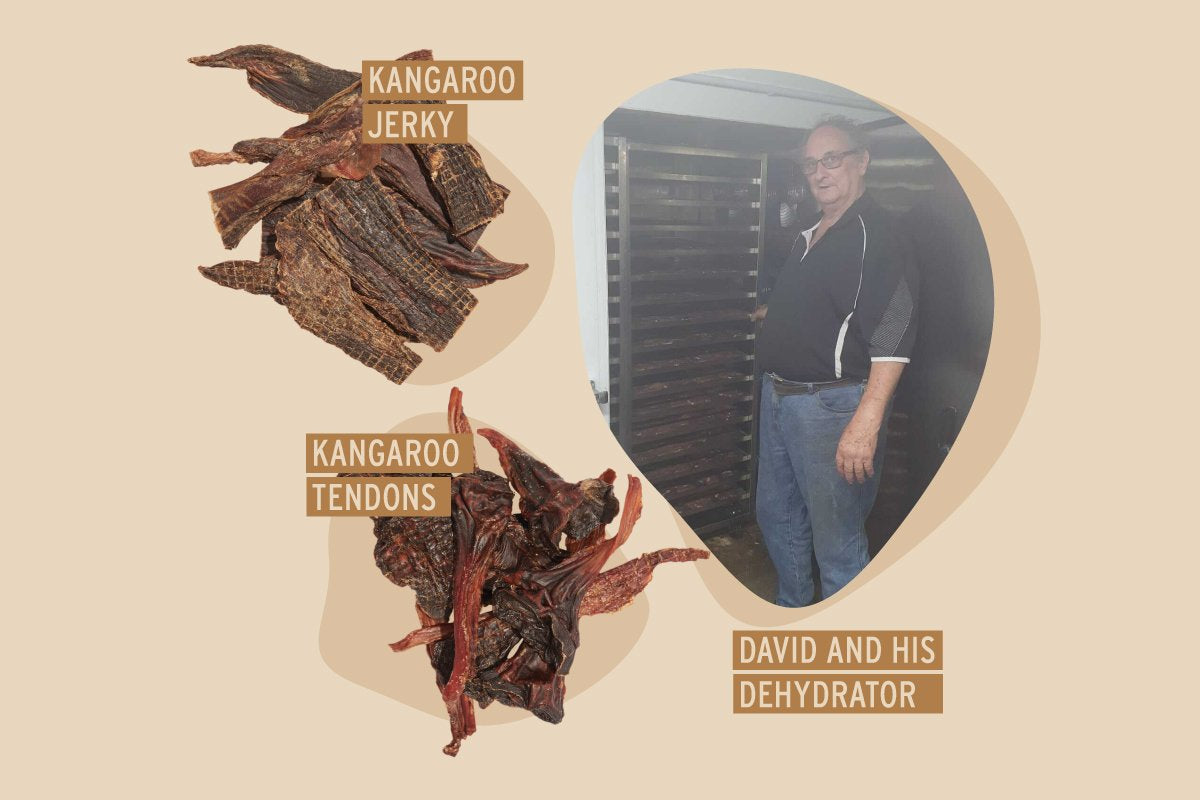 With a turbulent year on Aussie businesses; at WAG, we've been lucky to still continue working with our local farmers and butchers to bring natural, healthy dog treats from paddock to plate. We are proud that almost all of our natural dog treat range is as Aussie as the outback, and that we can give a paw-up on ethical and sustainable approaches in everything that we do.
Our local farmers and butchers are our bone-a-fide heroes, particularly with the challenges that 2020 posed. And at WAG, we know just how important and special Aussie produce is as well as the people behind bringing our homegrown products right to your doggo's bowl.
Here's the story of our mate, David from Coolum Beach, QLD, from getting into the business to how he promotes sustainability and ethical sourcing.
Getting into the business
David comes to us with 40 years as a trained butcher and meat trader. In 2011, he started as an importer of dried meat products from South America, but not soon after came to another realisation:
"I quickly realised I could source local and make a better product myself so I bought my first commercial dehydrator. This now has grown to 10 dehydration ovens and 16 staff processing kangaroo, poultry, goat and venison!"
David is one of the butchers behind doggo favourites including Kangaroo Jerky, Chicken Breast and Kangaroo Tendons.
The impact of 2020 and new horizons for 2021
From waiting for the postie for your doggo's monthly delivery of WAG to getting your dog treats instantly through delivery apps – restrictions on movement have affected many different parts of the natural dog treat chain. And unfortunately throughout 2020, this was no different for David and his crew.
"The biggest challenge has been around freight issues getting product into the warehouse and out to the customers as we rely on a lot of regional suppliers."
But with the pet industry growing at a rapid rate and the need for more paws-on-deck as pet parents are treating their dogs whilst working from home has increased, this in turn has allowed for new Aussie jobs to open up:
"At first, honestly, turnover has actually increased through the pandemic as demand in dog industry has increased. But our 2021 goals is to sustain the growth and work on new products for the market."
And as an exciting side note, in 2021, David will be updating his facility and adding a smokehouse which will means new exciting products on the horizon for your doggo!
Sustainability and ethical sourcing
At WAG, our mission is to treat every dog, everywhere with natural treats that have an ethical and sustainable approach. We are so lucky to work with local farmers and butchers with this same mindset.
"We only source by-products of human consumption which are of the highest standards, all from HACCP accredited facilities. As well as from only local and established Queensland companies to reduce the carbon footprint."
There have been efforts by Meat & Livestock Australia (MLA) to make Australia's red meat industry carbon neutral. For David, through re-purposing by-products as natural dog treats, this helps to minimise waste and ecosystem disturbance.
What makes Aussie produce so special
The benefits are far and wide when it come to Aussie produce for us and our doggos. And in David's words, with local product, your doggo can enjoy natural dog treats that are fresh and not subject to irradiation. Especially in this doggone crazy world, through supporting brands like WAG, we can continue to support butchers like David, local jobs and our true blue agricultural livelihood.