Homemade Christmas Gift Ideas Your Dogs Will Love!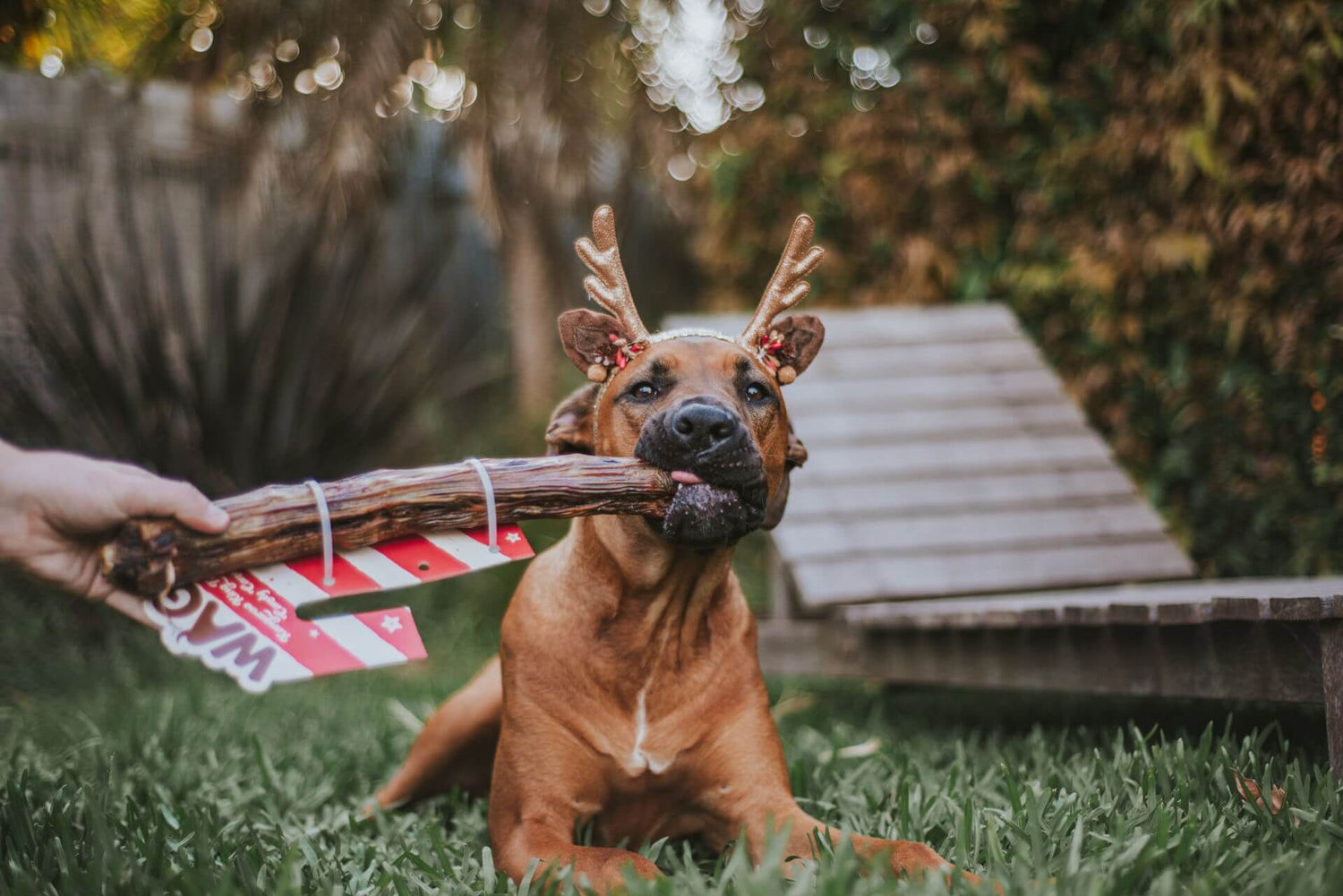 It's the most wonderful time of the year again! Christmas markets pop up everywhere, city sidewalks are lined with tinsel, festive songs are on repeat, and puppies fall asleep under twinkling Christmas trees. For everyone celebrating a holiday in December, there's a real reflective feeling of the year coming to an end.

If you're excited about celebrating with your furry friends, why not make your own homemade dog Christmas gifts? Below, we've put together some great DIY Christmas gifts you and your dog can make together. Do them yourself or with your pet pal - just have your camera ready for the grand reveal!
It's beginning to look a lot like Christmas
Get in the holiday spirit with some engaging craft activities! Some require opposable thumbs while others a paw print, so invite your dog into an activity where appropriate (or let them have creative freedom — why not!).
DIY dog paw print keepsakes
Little paw print keepsakes make for great ornaments, Christmas favours, and home decorations. Plus, if you have a puppy, it'll be so special to compare their current paw size next Christmas! There are a couple of ways to make these, depending on how much time you have and you budget.
You can print those paws directly on air-dry clay or simply with paint on white paper. Decorate with little nail art charms like mini snowmen and snowflakes for the perfect homemade dog Christmas gifts.
DIY dog painting
Bob Ross? More like Dog Ross. Get ready to get messy as you put paws in paint. All you need are a canvas, some non-toxic and washable paint, a Ziploc bag, Christmas dog treats, and our simple tutorial. This is an activity best done in the bathtub, an empty folding pool, or outdoors if you don't want paint on the couch!
Don't expect to have perfectly straight lines. Your pup probably hasn't ever seen paint before or got access to it, so they'll likely try to play with it! If they accidentally splash the canvas with a tail dipped in paint, don't worry about it. The recipient of the painting will be more than thrilled they are receiving such a thoughtful present. After all, as Bob Ross himself used to say, 'We don't make mistakes, just happy little accidents'.
Paw-print Christmas ornaments
You totally saw this one coming! While you have the paints out from the previous activity, make good use of those adorable paws on printed ornaments. There are many ways to make these so use what you already have, like wrapping paper cut-offs. Plus, your four-legged friends will love getting messy with you!
On a large piece of paper (or on the clear side of paper cut-offs), draw outlines of Christmas ornaments. Dip your pup's paw in paint and press them on the drawings. Once the paint has dried, cut out the shapes and punch a hole near an edge. Thread a ribbon through the hole and you have yourself a paw-print ornament! These are perfect for the tree or given as homemade dog Christmas gifts for dog lovers.
DIY dog themed stocking stuffers
All you dog lovers, rejoice. Here at WAG, we make some of the best dog treats in Australia. Our limited edition, Christmas-themed dog treats are the perfect stuffers for your DIY dog stocking. What better way for a dog to start their morning than sniffing out some surprise treats?
Our dog-approved treats offer hours of stimulation, great nutrition, and dental care benefits. 
Plus, we use only 100% real meat, 0% grains, and 0% preservatives. And seriously, we've got it all. Want to keep your fur baby's coat shiny? Try a collagen candy cane. Or if they already have too many beef treats, our kangaroo king tail candy cane makes a delicious option. Chews, bones, drops... we've got something for every taste!
Christmas treat advent calendar
Who wouldn't love getting a gift every day for a month? Buy or make your own DIY dog advent calendar and fill it with all sorts of goodies. You can get really creative with it as there are so many days to fill with fun! For instance, you could put in an interactive dog toy, dog treats, dental sticks, a cute rope toy, a new collar, and some small homemade dog Christmas gifts.
You can also stick to a theme within a theme, like filling it with a daily treat! Alternate between training treats like yoghurt drops and larger coffee wood chews, homemade dog biscuits, and bully sticks for dogs. Finish off the last day with some kangaroo bones and they'll be gnawing with excitement until Christmas morning.
Have yourself a yummy little Christmas
Alright, alright. Just one more Christmas reference and we'll be done! Us WAG folk just love this time of year. Isn't there something special about wrapping up some homemade dog Christmas gifts for your furry friends to rip up on Christmas morning?
Well, no matter what fun surprises you come up with, they are sure to make great gifts for dogs and dog lovers alike! And if you get stuck on choosing Christmas dog treats, ours are always a pup-pleaser.