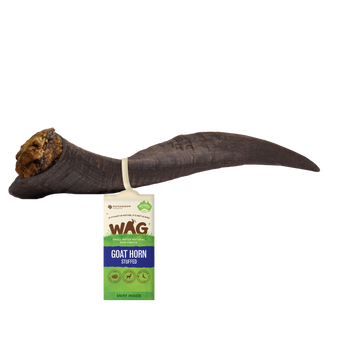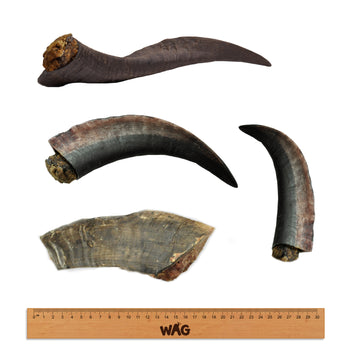 Stuffed Goat Horn
Goat Horns stuffed with a delicious air dried Kangaroo mince. WAG Stuffed Goat Horns contain Keratin Proteins and B Vitamins which help maintain healthy skin and a shiny coat. Our Goat Horns are 100% natural and sustainably sourced from ethical Aussie farmers (a by-product of the meat industry). 

What's in the box?
Ingredients
100% Goat Horn, 100% Kangaroo Mince, Vinegar
Guaranteed Analysis
Crude Protein (Min.) 89.9%, Crude Fat (Min.) 1.3%, Crude Fibre (Max.) 5.7%, Moisture (Max.) 9.6%
FAQs
How to feed, store and more
How should I store Stuffed Goat Horns?
Stuffed Goat Horns can be stored in a resealable bag for freshness, an air-tight container in a cool, dry place or the fridge.
How should I feed my dog goat horns?
We suggest giving them our goat treats for up to 30 minutes a day, supervised and removing any small pieces.
Can I give my puppy a goat horn?
Puppies should steer clear from goat horns until they've graduated to adult teeth. The tough consistency of goat horns means they might risk breaking the more delicate baby teeth before those teeth are ready to come out naturally.
How are goat horns sourced and made?
Our goat horns come from local Victorian sources who farm goats for human consumption. We step in and take the byproducts left over (namely, goat horns and goat trotters). Our horns are especially unique as during the sterilisation process, we remove the live membrane inside. While the marrow in a horn is delicious and nutritious, it often requires the complicated addition of preservatives and packaging to keep it fresh.

After that the goat horns are hand-cut and locally packaged in Melbourne using step-by-step techniques. We keep it natural and it keep it local.